All About
Microsoft D365 Business Central
PROVIDES INTELLIGIBLE FUNCTIONALITIES TO REPOSE MANAGEMENT ISSUES.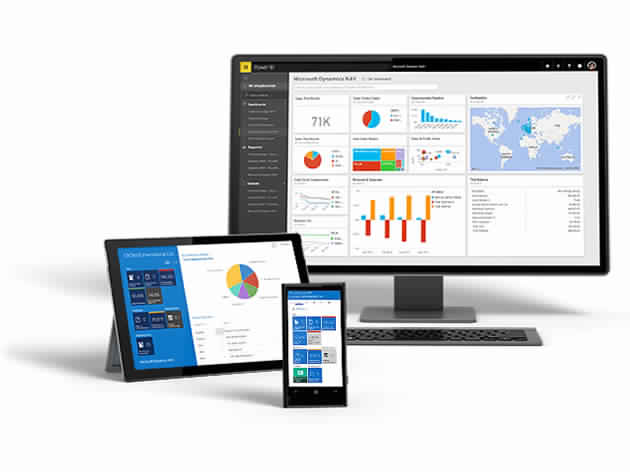 SALES & MARKETING
Microsoft Dynamics 365 helps Sales and Marketing staff to understand customer potential values. It can be used anywhere and anytime through mobile apps or personalize devices. Based on Predictive Intelligence(PI), It recommends products to customer and for a simplified view, It unifies Sales and Marketing.
FINANCIAL MANAGEMENT
Microsoft Dynamics 365 provides a clear view into the performance of your business. It provides security and more control over budgets and cash flow. It recommends smartly "When to pay?" to avail vendor discounts and to avoid overdue penalties. Provides categorization by adding tags to entries.
MANUFACTURING
Microsoft Dynamics 365 gives manufacturers the tools needed to increase business intelligence, enabling you to launch better products and services faster. It works by giving insights, if any of the machine components need repairing. It produces products according to customer needs and not according to manufacturer's guess..
PROJECT AND JOBS MANAGEMENT
Job Management tracks cost against budget and sales disorder and minimize cost overruns. Capacity Management plans capacity and sales with high level details and time period. Budgets to avoid over expenditures. Managing resources to categorize resources and allocate to different jobs.
INVENTORY MANAGEMENT
Microsoft Dynamics 365 performs inventory tasks quicker within receiving, selling and calculating the cost of items. It predicts future sales and avoids Inventory shortage. You can setup automated reordering based on predetermined stock levels.
BUSINESS INTELLIGENCE & ANALYTICS
Microsoft Dynamics 365 offers business Intelligence to help proactively guide your employees to optimal outcomes across all areas of business. It uses latest SQL Azure Technology to explore data in a variety of graphical visualizations.
HUMAN RESOURCES AND PAYROLL
Microsoft Dynamics 365 manages the entire life cycle of Human Capital by offering Employee Record Management, Competency Management, Recruiting and Applicant Training, Performance and compensation Management, Payroll and Benefits.
ADVANCED FORECASTING
Microsoft Dynamics 365 predicts Independent demands from sales order and dependent demands at any decoupling point for customer orders. Forecast is generated by gathering transaction historical data.
All About
Microsoft Dynamics NAV
By far the best tool to improve your business performance!
Simple and intuitive software focusing on usability, people & productivity.